8 Best Suburbs of Seattle: Where to Live in the Greater Seattle Area [2023]
Posted by Adriano Tori on Friday, December 2, 2022 at 2:40 PM
By Adriano Tori / December 2, 2022
Comment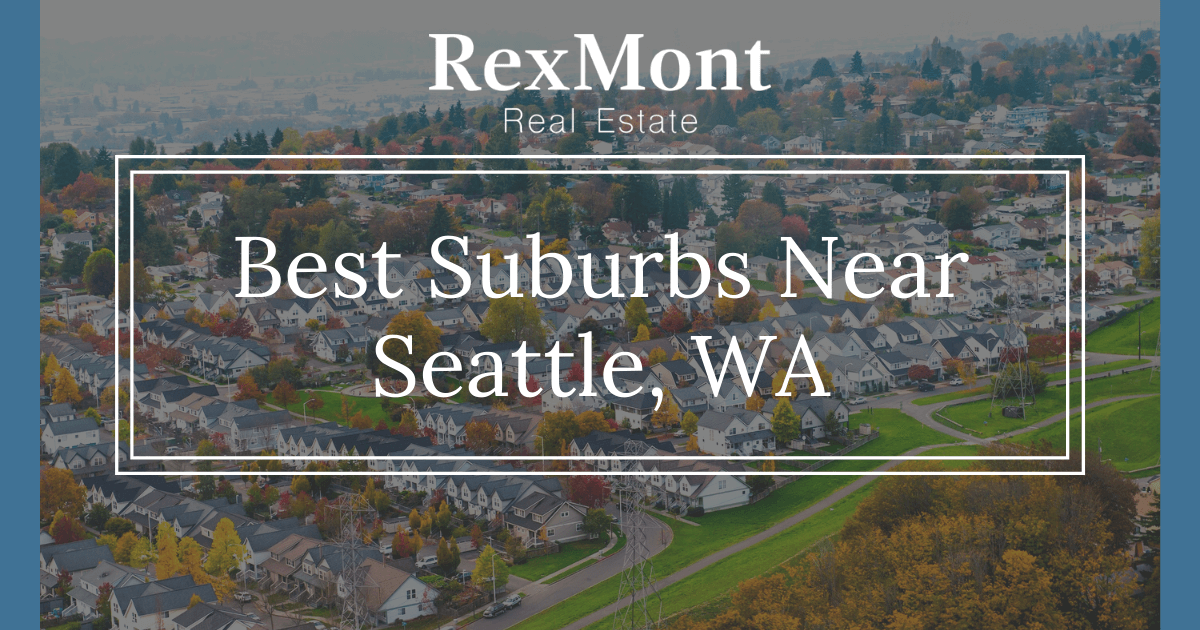 Seattle is known for its soaring Space Needle, hip coffee culture, and active outdoor lifestyle. The city is home to nearly 730,000 residents spread across 83 square miles, and it has the same hustle and bustle prevalent in any major metropolis.
Prospective homebuyers interested in the Seattle community might consider looking in the city's suburbs. exploring a variety of Seattle, WA homes for sale. While smaller and quieter than nearby Seattle, many suburbs in Seattle's metro area are ideally located and offer excellent walkability. Read on to learn about the best suburbs in Seattle, Washington.
Bellevue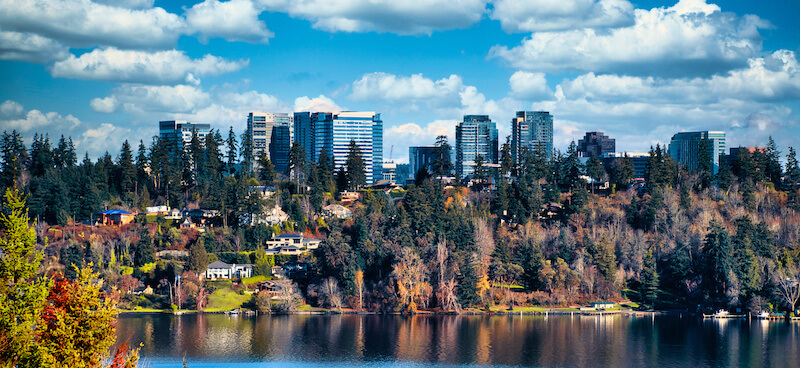 Nicknamed the "City in a Park," those moving to Bellevue will find an extensive park system that showcases the lush landscape the Pacific Northwest is known for. The city is home to miles of trails and a handful of parks, including Bellevue Botanical Garden, Bellevue Downtown Park, and Wildwood Park.
There are several public beaches in Bellevue, including Clyde Beach Park and Chism Beach Park. The city's proximity to Lake Washington makes it popular with lovers of swimming, kayaking, boating, paddle boarding, fishing, and more.
Bellevue has been ranked on several superlative lists, including the Happiest Cities in the World and the Best Cities to Live in America. Bellevue is a walkable community, and its streets are lined with quaint shops, cozy cafes, and delicious eateries.
The city of Bellevue is known for being a tech hub and offers residents a thriving economy. Close to 150 companies are based out of Bellevue. Many of them are major names, including Expedia, T-Mobile, Microsoft, and Nintendo.
Prices for homes for sale in Bellevue generally start at $1,000,000 and can be as much as $10,000,000 or more. Condominiums are also available, and prices typically range between $400,000 and $1,500,000, though some go for higher.
Bellevue Amenities
Bellevue Arts Museum
Mercer Slough Nature Park
Chace's Pancake Corral
H Mart Bellevue
Kura Revolving Sushi Bar
Dilettante Mocha Cafe
Bellevue Brewing Company
Mercer Island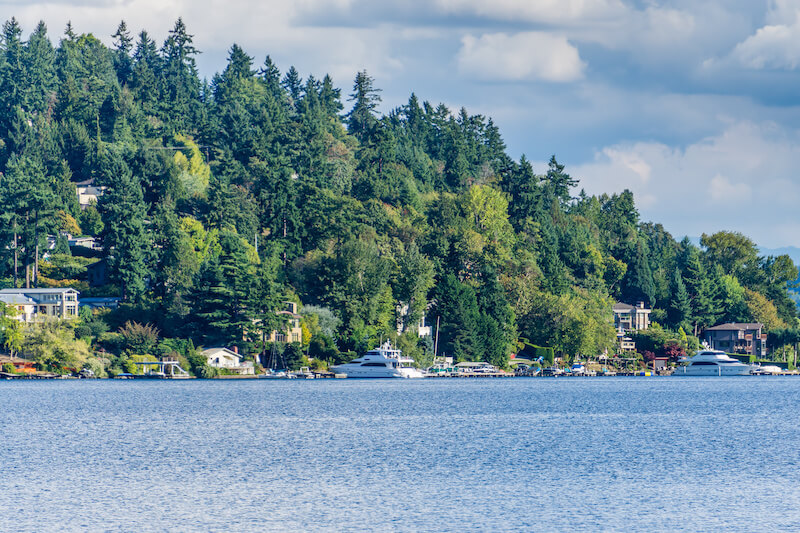 Mercer Island is both a city and an island. It is uniquely located at the center of Lake Washington and is connected by a bridge to its surrounding cities: Seattle and Bellevue. Home to just over 25,000 residents, the city offers excellent shopping, dining, and entertainment options.
Like many suburbs of Seattle, Mercer Island is home to plenty of public greenspace. There is no shortage of outdoor spaces that allow residents to relax and take in the city's natural surroundings. Mercer Island boasts close to 500 acres of parks and green space, three public beaches, and more than 50 miles of hiking trails.
Mercer Island's downtown area is at the heart of the city and rivals nearby Seattle when it comes to hotspots and activities. Residents can stop by The Roanoke Inn or Pagliacci Pizza for a bite to eat, take a fitness class at Orangetheory, or go shopping at the Mercer Island Farmers Market.
Prices for homes for sale in Mercer Island typically range between $1,000,000 and $5,000,000 or more. Popular architectural styles in the city include Ranch, Craftsman, and Traditional. Condominiums, townhomes, and other attached options are also available. Units vary widely in price, generally selling for between $300,000 and $800,000 per unit.
Mercer Island Amenities
Aubrey Davis Park
Mercerdale Park
Mercer Island Martial Arts
Mercer Island's Park-and-Ride
Mercer Island Florist
Island Treats
Island Books
Homegrown
Redmond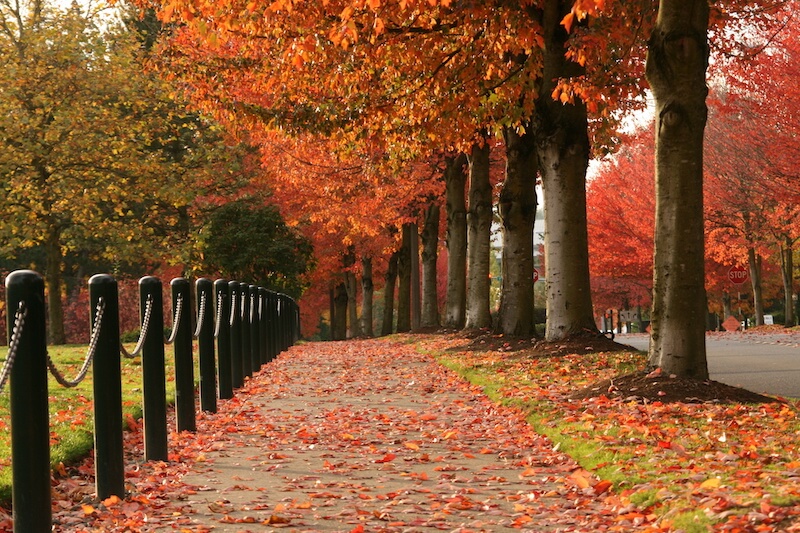 Located just twenty miles east of downtown Seattle, the city of Redmond is a mere 30-minute car ride from the major metropolis. Despite its proximity, the city of Redmond manages to maintain its own unique and charming atmosphere for its nearly 70,000 residents to enjoy.
Many Redmond residents choose to take public transportation to commute to work or run errands. The city is served by King Country Metro, and there are several stops throughout the city.
The city is very green, boasting close to 50 parks and more than 30 miles of hiking, biking, and jogging trails. Some of the best local spots include Idylwood, a waterfront park looking out over Lake Sammamish, and Redmond Watershed Preserve, a preserve perfect for wildlife watching.
Redmond's economy is booming, with tech being the city's primary industry. AT&T and Physio-Control are both headquartered in the city. Other major employers in the area include Lake Washington School District, Honeywell, and Stryker Corporation.
Prices for Redmond real estate generally start at $600,000 for a single-family home and stretch up past $3,000,000. For condominium units, prices typically range from $400,000 to $1,000,000. Buildings offer common amenities that include fitness centers and swimming pools.
Redmond Amenities
Downtown Park
Anderson Park
Garlic Crush
Willows Run Golf Complex
Trader Joes
Black Raven Brewing
Blazing Bagels
Pomegranate Bistro
Woodinville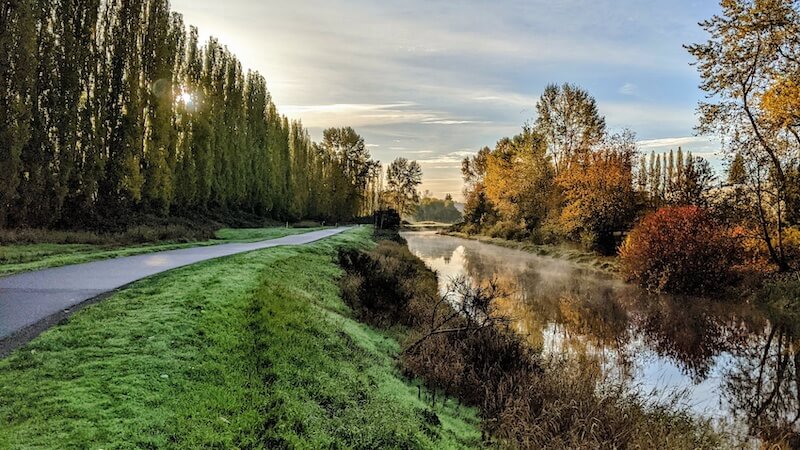 The city of Woodinville mixes small-town charm with big-city amenities. Thirty minutes from downtown Seattle, Woodinville's unique and welcoming atmosphere includes quality restaurants and quaint boutiques. The walkable city covers just under six square miles and is home to roughly 13,000 residents.
Woodinville is home to several wineries, distilleries, and breweries. In total, there are over one hundred tasting rooms in Woodinville. All of them guarantee delicious wine and spirits in addition to small bites and breathtaking views of the lush Woodinville landscape.
One such tasting room is the Chateau Ste. Michelle. Patrons can purchase wine by the glass or bottle and enjoy a picnic lunch on the winery's sprawling grounds. Chateau Ste. Michelle is also the host of the Summer Concert Series. Nearby, Woodinville Whiskey Co. brews house-made bourbon meant for enjoying on its own or during a distillery tour.
Prices for homes for sale in Woodinville typically start at $800,000 and can go up to $3,000,000 or more. Townhomes and condominium units are available less often, but prices for these units generally range from $350,000 and $800,000.
Woodinville Amenities
The Barking Frog
Hollywood Tavern
Novelty Hill
Woodinville Farmers Market
Elegant Details Boutique
The Herbfarm
Bothell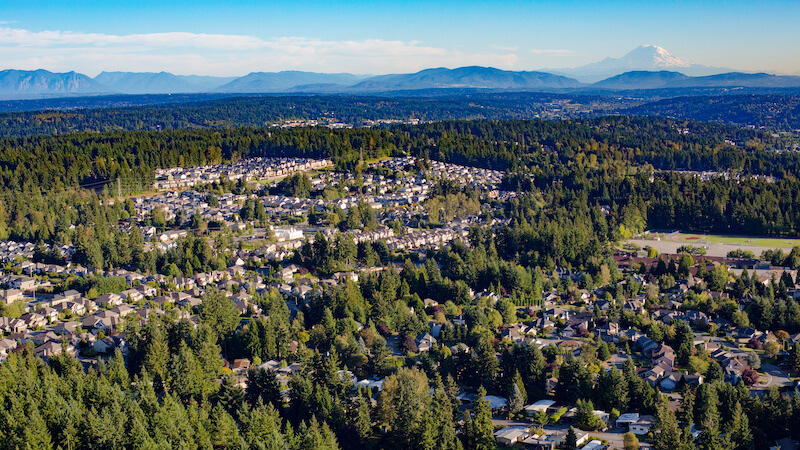 A thriving city on the Sammamish riverfront, Bothell has a population of close to 45,000 residents. As the population steadily grows, Bothell sees new and exciting developments throughout the city, especially in its downtown area.
Some exciting downtown developments include the many unique places for residents to share a meal. The Bine Beer & Food is on Main Street and boasts a warm and inviting atmosphere, delicious small bites, and more than 25 drafts on tap. Just a five-minute walk away, Poquitos offers elevated versions of classic Mexican dishes alongside regular Happy Hours and late-night specials.
Downtown Bothell is a quick 20-minute drive outside of Seattle. This proximity allows Bothell residents to feel near the many amenities of Seattle but far enough away to feel that they are in their own relaxing oasis.
Prices for homes for sale in Bothell generally range from $700,000 to $2,500,000. Homes boast gorgeous exteriors and anywhere from 1,200 to 3,000 square feet of living space. Condominiums are also popular, particularly close to downtown, and typically cost between $300,000 and $1,500,000.
Bothell Amenities
Park at Bothell Landing
Yakima Fruit Stand
North Creek Forest
Beardslee Public House
Zulu's Board Game Café
Samburna Indian
Fred Meyer
Safeway
Sammamish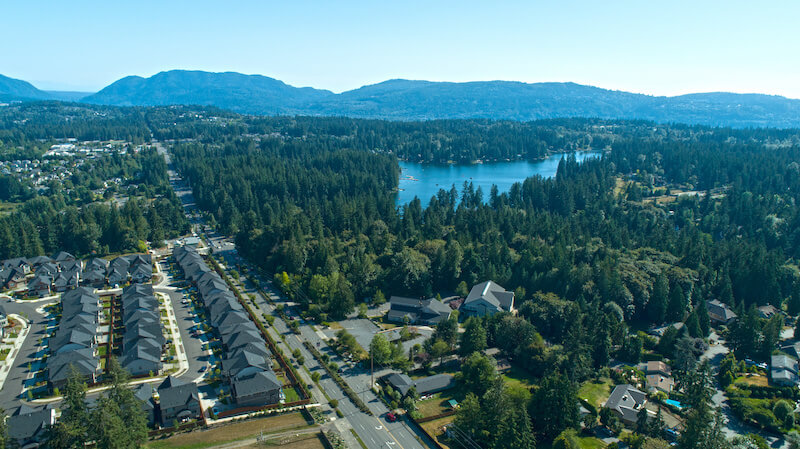 Sammamish is a suburb of Seattle with a population of more than 64,000 residents. The city is stretched across 24 square miles and is home to the Sammamish River, the Sammamish Lake, and Ebright Creek Park.
The city's beauty, its friendly residents, cozy atmosphere, and thriving economy has led to its ranking on several superlative lists. This includes the number one spot on Wallethub's 'Best Small City in the U.S.'
There are 10 parks in the city, including Beaver Lake Park, Big Rock Park, and East Sammamish Park. Sammamish also boasts the East Lake Sammamish Trail, which connects the city to an intricate local trail system.
Tech is the biggest industry in Sammamish. Some of the biggest names in tech that are local to the city include Infosys, Google, and Oracle. Other major industries in Sammamish include management and sales. Amazon, Starbucks corporate offices, and Deloitte all have a presence in the city.
Prices for homes for sale in Sammamish vary, generally starting around $1,000,000 and rarely going above $4,000,000. There are many waterfront homes that offer gorgeous views of Lake Sammamish. Condominium units are in sought-after buildings with gleaming hardwoods and covered parking spaces. Prices for condominium units typically range from $300,000 to $900,000.
Sammamish Amenities
MOD Pizza
Mommy's Kitchen
Sammamish Café & Spirits
Safeway
Bartell Drugs
Trader Joe's
Eastlake Community Fields
Issaquah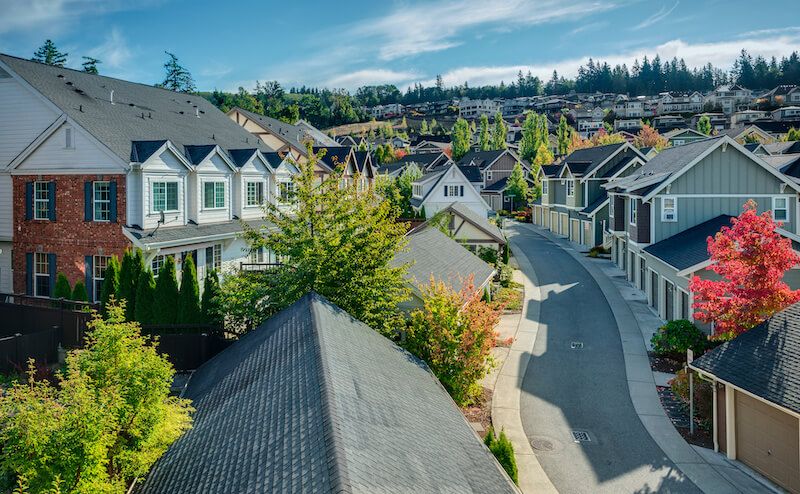 Issaquah is a suburb of Seattle and home to close to 40,000 residents. The city is spread across just under 14 square miles. Almost its entire border is undeveloped green space, including Squak Mountain State Park and Tiger Mountain State Forest.
The city of Issaquah is synonymous with culture and the arts; the enormous creative presence in the city is evident in the many events and displays that take place in downtown Issaquah. Some of these include Art Walks, Concerts on the Green, and the Village Theatre. The village has been putting on productions since 1979 and has over 200,000 patrons in attendance each season.
Also located in downtown Issaquah, the Issaquah Farmers Market takes place on Saturdays. On any given Saturday, the market will host upwards of 8,000 shoppers. Other unique stops in Issaquah include Lucky You, a quirky gift store with seasonal offerings, Suburban Soul, a bohemian fashion boutique, and Studio Den, a shop with a curated selection of lifestyle pieces and home decor.
Issaquah real estate prices are accessible to many budgets. Prices for single-family homes typically start at $900,000 and stretch past $2,000,000. Condominium units and other attached homes generally sell for between $500,000 and $1,000,000.
Issaquah Amenities
Cougar Mountain Zoo
REI
The Grange
Umi Cafe
Maurya Indian Grocery Stores & Restaurant
Issaquah Coffee Company
Confluence Park
Kenmore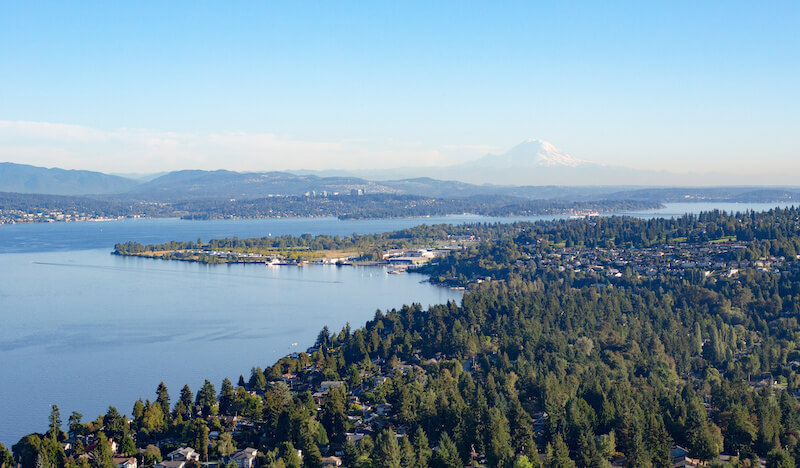 Kenmore is a city that is home to close to 24,000 residents. Just 30 minutes from downtown Seattle, Kenmore is a convenient and walkable community. It is filled with businesses and amenities committed to maintaining Kenmore's reputation for strength and innovation.
The city's most notable feature is its strong entrepreneurial background. Many major companies were founded in Kenmore, most notably Kenmore Air and Kenmore Camera. Kenmore City Hall is known for being "business-friendly," meaning there are plenty of resources that allow new businesses to flourish in the community.
Some of the most popular local businesses in the area include The Guest House Restaurant, a family restaurant serving breakfast, lunch, and dinner, and Buddha Bruddah, offering classic dishes like Hawaiian grilled beef and sweet and spicy pork.
Kenmore is surrounded by lush landscape and trails for hiking, biking, and jogging. Some of the local favorite spots include Log Boom Park, Moorlands Park, and Rhododendron Park, which offer amenities like basketball courts, walking trails, picnic areas, boathouses, and fishing spots.
Homes for sale in Kenmore typically sell for between $600,000 and $2,000,000. Townhomes and condominiums are in attractive and modern buildings boasting private entrances and meticulously-landscaped exteriors. Units generally sell for between $300,000 and $900,000.
Kenmore Amenities
Stoup Brewing Kenmore
Grocery Outlet
Savage Moose Sports Pub
Tab's Bar & Grill
Jay's Cafe
The Cottage
Find a Home in One of Seattle's Suburbs
The Seattle metropolitan area is brimming with communities that have endless convenience and amenities. These cities — several with costs comparable to the Seattle cost of living — allow residents to be close to Seattle's action while still enjoying a relaxing retreat. For prospective homebuyers looking for a property in the Seattle metro, there is sure to be a suburb that suits their individual needs.