Top 12 Best Neighborhoods in Bellevue WA: Where to Live in Bellevue
Posted by Adriano Tori on Tuesday, February 7, 2023 at 7:15 AM
By Adriano Tori / February 7, 2023
Comment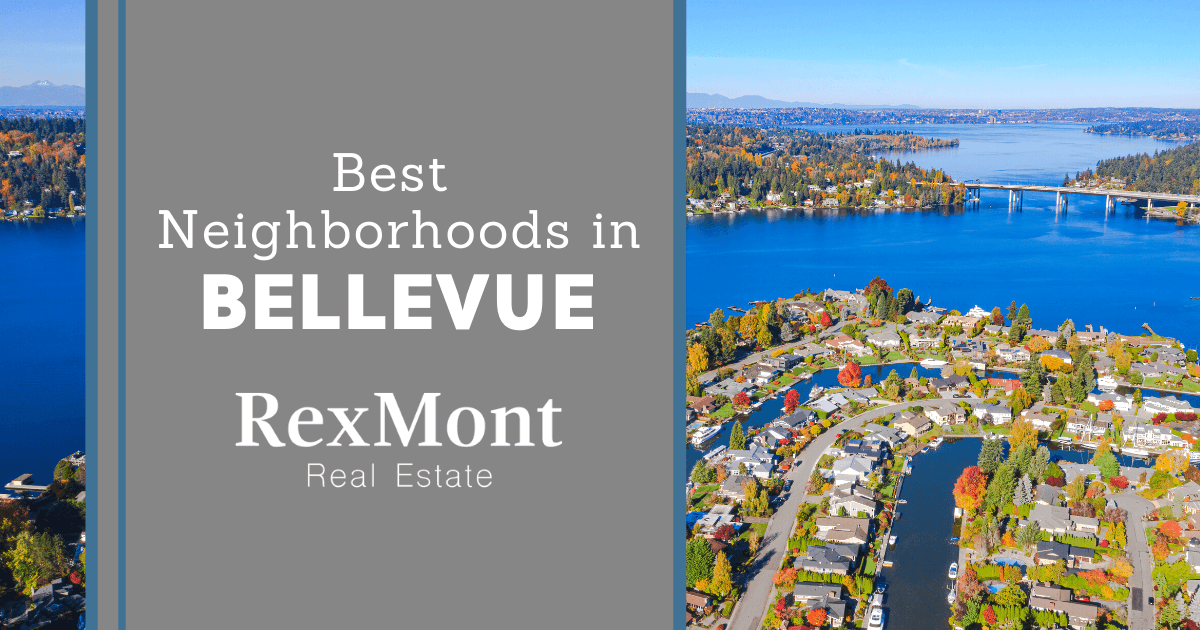 Some may look at the city of Bellevue, Washington, and only see a Seattle suburb. However, look a little closer, and would-be homeowners will find a vibrant community filled with plentiful parks and nature, abundant shopping and dining, and so much more. But with so many neighborhoods, which ones are the right choices for new residents? Keep reading to discover twelve of the best neighborhoods in Bellevue, WA, and take a look at the advantages each provides, including a fantastic house for sale in Bellevue, WA.
Somerset
Located on the southern end of Bellevue, Somerset is a hilly, tree-lined suburban neighborhood with a strong sense of community. The community consists of more than 1,200 homes spread across more than 20 smaller subdivisions built in the 1960s and 1970s.
It's also a great neighborhood for those who love to get outside. Somerset residents can join the Somerset Recreation Club, home to a community clubhouse, pool, tennis courts, and other facilities. The area is home to the Somerset Greenbelt, six acres of trails that connect to other local and regional trails. Residents can also enjoy the nearby Coal Creek Natural Area and Cougar Mountain Regional Wildland Park, with 35 miles of trails and incredible views of the local scenery. In addition to these gorgeous natural surroundings, Somerset is located just a short drive from Interstates 90 and 405, allowing easy and fast access both north-south and east-west through the region.
Somerset homes for sale consist entirely of single-family homes constructed in a wide variety of architectural styles. They tend to have four to five bedrooms and three to four bathrooms, spread over 2,600 to more than 4,000 square feet of living space. Homes generally start upwards of $1.5 million and can easily reach close to $3 million.
Somerset Amenities
Numerous local parks and trails
Close to multiple interstates
Community clubhouse
Swimming pool
Tennis courts
Bridle Trails
Bridle Trails is a high-end north Bellevue neighborhood that takes its name from the nearby Bridle Trails state park. Bridle Trails State Park is known as one of the top equestrian parks on the west coast and includes 28 miles of trails over nearly 500 acres. The park also hosts numerous cultural events and other entertainment, providing a wonderful gathering space for residents.
The community is also adjacent to the Microsoft campus along State Route 520, providing lightning-fast access to one of the region's top employers. Homeowners are also just minutes away from plentiful shopping and dining options in Bellevue and only a short drive from all that Seattle offers. Proximity to Interstate 405 also makes trips north and south through the region a breeze.
The beautiful homes in Bridle Trails typically start north of $2 million, though some can be found more affordably. However, it's not uncommon to see them sell for up to $5 million in some cases. They generally include three to six bedrooms and as many as five and a half bathrooms. With homes up to nearly 7,000 square feet of living space, Bridle Trails offers some of the most spacious homes in the area. Owners also enjoy large lots of almost a full acre.
Bridle Trails Amenities
Spacious homes on large lots
Close to Bridle Trails State Park
Easy access to Interstate 405
Bellevue Golf Course
Phantom Lake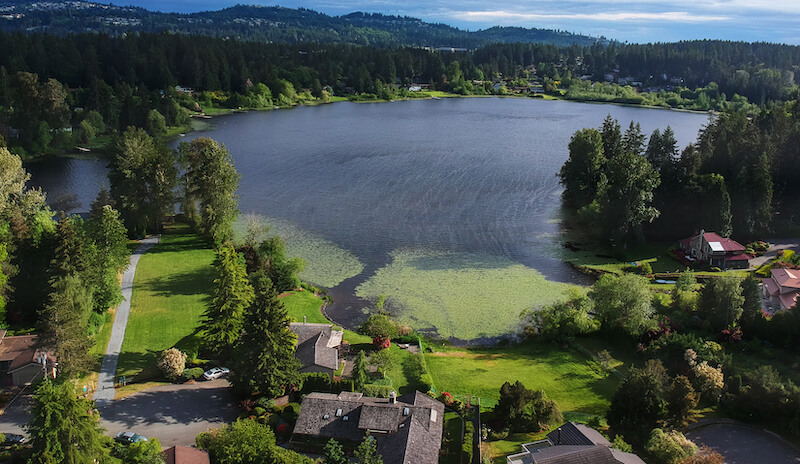 Set around the lake that shares its name in eastern Bellevue, Phantom Lake is another highly desirable neighborhood for would-be Bellevue homebuyers. The area is packed with parks and green spaces and is near Lake Sammamish, making it an ideal community for nature lovers who also desire the convenience of life in the city. One of the most popular parks is Phantom Lake Park, which has a boat launch, fishing areas, and a paved trail through some of the city's oldest and largest trees.
Meanwhile, the community is just over a mile north of Interstate 90, providing quick and easy access to the heart of Seattle and other major regional highways. This area close to the interstate also provides Phantom Lake residents with nearby shopping and dining options, including the longtime local favorite Lil' Jon Restaurant and Lounge.
Phantom Lake homes are mostly single-family detached properties built in various styles. Houses range from three to six bedrooms, spread over 1,500 to 3,000 square feet of living space. While homes can occasionally be found in the high six figures, they most commonly start north of $1.25 million. However, newer luxury properties can reach nearly $3 million.
Phantom Lake Amenities
Phantom Lake Park
Phantom Lake Bath and Tennis Club
Weowna Park
Close to Lake Sammamish
Convenient to Interstate 90
Lakemont
Bellevue buyers looking for a more suburban, residential community removed from the hustle and bustle of the city may find their dream home in Lakemont. The loosely defined neighborhood is located on Bellevue's southeastern edge, on the north side of the vast Cougar Mountain Regional Wildland Park. It's centered around Lakemont Community Park, a 16-acre green space with sports facilities, a playground, picnic areas, and several miles of trails that connect to nearby Lewis Creek Park.
Other than a convenient shopping center, the rest of Lakemont consists of quiet, winding neighborhood streets that are nevertheless just a short commute to central Bellevue, Seattle, and elsewhere thanks to nearby Interstate 90. Lakemont is also just down the road from Newport, where residents will find extensive shopping and dining options for all tastes.
Lakemont real estate is made up of detached single-family houses supplemented by a few townhouses, both typically large and often relatively recently constructed. More modestly sized houses and townhomes with two bedrooms start in the high $500,000s to the mid-$800,000s. Typical properties sell from $1-2 million, with luxury homes reaching $2.5-4 million for the largest and most finely finished options.
Lakemont Amenities
Lakemont Community Park
Lewis Creek Park
Lakemont Village shopping center
Convenient to Interstate 90
Lake Hills
Often looked at together with the nearby Robinswood community, Lake Hills is another top Bellevue neighborhood. Just a short drive from the downtown Bellevue neighborhood and the Interstate 90 and 405 junction and close to State Route 520, Lake Hills is ideally located for both getting around locally and traveling through the entire Seattle metro region. It's also home to the scenic Lake Hills Greenbelt, which includes 150 acres of forests, wetlands, streams, and lakes, and only minutes from gorgeous Lake Sammamish and all the fun the water can provide. Lake Hills is also the location of the public Bellevue College, providing a variety of educational opportunities.
Lake Hills homes generally sell in the $1.25–$2 million range. However, some luxury homes in the area have sold for as much as $3 million, and occasional homes are available in the high six figures. Most Lake Hills homes are modestly sized, with three to five bedrooms and one-and-a-half to three bathrooms. While most have between 1,800 and 2,500 square feet of living space, some can have as little as 1,200.
Lake Hills Amenities
Close to many parks and Lake Sammamish
Easy freeway access
Samena Swim & Recreation Club
West Bellevue
West Bellevue covers an area south of Main Street, west of Interstate 405, and north of Interstate 90. This includes more than two miles of Lake Washington shoreline, which residents can enjoy at spots like Chism Beach Park. Further inland, Mercer Slough Nature Park and Environmental Education Center provide walking and biking paths through gorgeous natural habitats, along with classes and other events.
West Bellevue is located just south of the bustling downtown area, putting many of the city's top restaurants, nightlife, and other spots within walking distance or a short drive. Within the community is the popular Chace's Pancake Corral, which has served breakfast delights for more than 60 years.
Homes in West Bellevue consist of a mix of condos, townhouses, and traditional detached homes. Condos provide the most budget-friendly options, starting as low as the high $200,000s, though they can reach $800,000 or more. Single-family homes typically cost upwards of $1.5-2.5 million, though ultraluxury properties can top $10 million or more. Homes with a water view or waterfront access will naturally command a premium compared to their inland counterparts.
West Bellevue Amenities
Adjacent to downtown Bellevue
Convenient to Interstates 90, 405
Chism Beach Park
Mercer Slough Nature Park
Killarney Glen Park
Bellevue High School
Newport Shores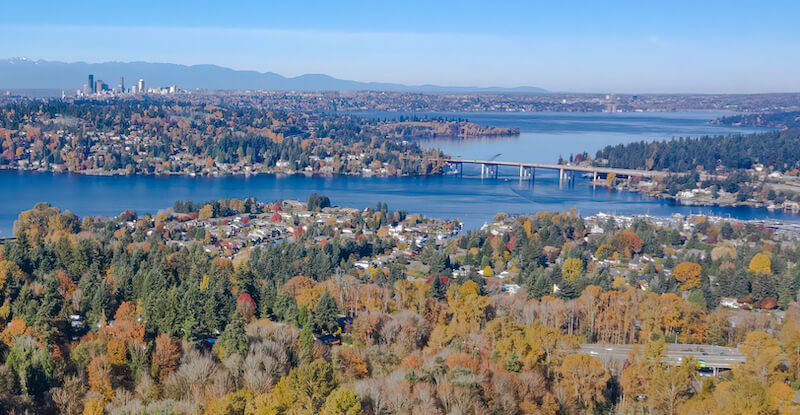 Those looking for a unique community on the water may find their new home in Newport Shores. Located on the shore of Lake Washington, it includes more than 340 homes, nearly a third of which have direct waterfront or canal access. The 170-acre waterfront community is rich in amenities, primarily through the Newport Yacht Club. This members-only neighborhood facility includes a marina with more than 100 slips, a heated pool, sports courts, and event space.
While residents enjoy a quiet, secluded lifestyle at home, Newport Shores is ideally located close to the interchange of Interstates 90 and 405, allowing easy access to the city of Seattle and other parts of the region. Plus, downtown Bellevue's shopping and dining are only minutes away.
Waterfront homes often come at a premium, and Newport Shores is no exception. Homes in Newport Shores typically start north of $2 million. However, those directly on Lake Washington can easily sell for $6–$7 million or more. For their money, homeowners will find some of the area's largest homes, with as many as five to seven bedrooms and a similar number of bathrooms, spread over 2,500 to 7,500 square feet of living space. It's among Bellevue's best luxury communities, and it's easy to see why.
Newport Shores Amenities
Waterfront and canal front homes
Newport Yacht Club marina
Swimming pool
Tennis courts
Playground
Eastgate
Located along the south side of Interstate 90, Eastgate is a perfect choice for those who need to commute to Seattle daily. With just a 10-mile direct drive, residents travel from home to the heart of downtown and all the dining, nightlife, and other big-city attractions.
Closer to home, there's also a wide variety of everyday shopping and restaurant choices along the area freeways. These include the Marketplace at Factoria, which is home to popular stores like Target, Nike, and Nordstrom, as well as the Eastgate Plaza with groceries and daily needs. Those who love the outdoors will also be able to take advantage of nearby Lake Sammamish, which offers recreation opportunities on land and water.
Eastgate's homes were primarily built in the post-World War II era, though others were constructed between 1970 and 2000. They usually start around $1 million, though some homes can sell in the $2–$3 million range. These three- to five-bedroom homes provide 2,500–4,000 square feet or more of living space in a diverse selection of architectural styles, from old-school ranches to modernist new construction.
Eastgate Amenities
Perfect commuting location to Seattle
Easy access to shopping and dining along Interstate 90 and 405
Eastgate Park
Beaux Arts Village
Another top Bellevue community located on Lake Washington, Beaux Arts Village is technically its own independent city, despite its proximity to downtown Bellevue. Founded in 1908, this waterfront hamlet is home to about 300 residents but enjoys full police, fire, and other emergency services through agreements with neighboring municipalities. Neighbors get to know one another with custom name sign plates on each property, fostering a tight-knit sense of community. It's a highly sought-after neighborhood thanks to easy access not only to Bellevue's best areas but also to Seattle, thanks to Interstate 90, located just to the south. Residents also enjoy amenities like a private Lake Washington beach and quiet, tree-lined streets.
Those looking for a cookie-cutter home should look elsewhere, as Beaux Arts Village contains an unusual and eclectic mix of new construction homes and old homes in a variety of styles. They typically include three to four bedrooms and two to three-and-a-half bathrooms, spread over 2,000 to nearly 3,600 square feet of living space. Becoming a "villager" (as community members often refer to themselves) and buying a home in Beaux Arts Village will generally cost at least $1.7 million, or as much as the $4 million range.
Beaux Arts Village Amenities
Close-knit, intimate community
Waterfront access
Private neighborhood beach
Easy access to Bellevue and Seattle
Woodridge
Woodridge is a variegated community of homes located along the eastern edge of Interstate 405 and the northern edge of Interstate 90. For many, this makes the neighborhood ideally situated no matter where residents need to travel to in the Seattle metro region or beyond. The subdivision was built in the 1950s through the 1970s, though many homes have been significantly updated or expanded since. Woodridge also shares the 150-acre Kelsey Creek Park with the adjacent Wilburton neighborhood. The park offers historic buildings, farm animals, and a variety of educational programs, in addition to green space and hiking and jogging trails.
Woodridge is among the few top Bellevue neighborhoods to offer condominium and townhome living, in addition to single-family detached homes. This provides options from the low $400,000s to just over half a million for condos that are typically two bedrooms and one to two baths. Single-family homes in Woodridge generally include three to five bedrooms and a similar number of bathrooms, totaling approximately 2,000–3,300 square feet. As might be expected, these will cost more, typically starting around $1 million and sometimes exceeding $2 million.
Woodridge Amenities
Close to multiple interstates
Kelsey Creek and Bannerwood Parks
Woodridge Swim Club
Downtown Bellevue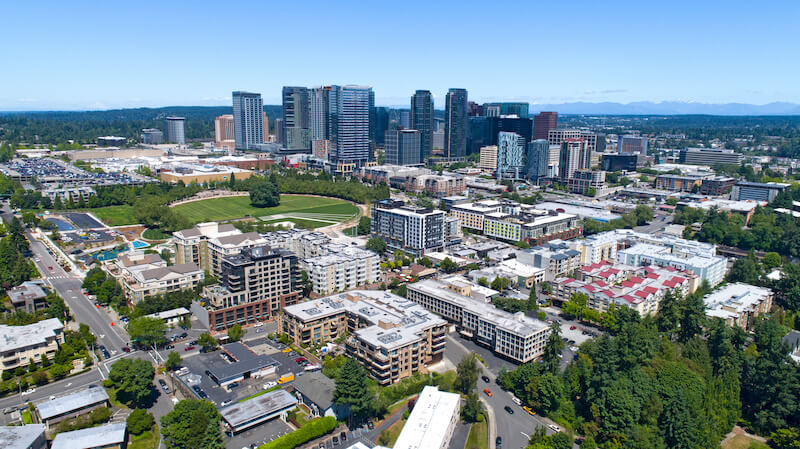 Bellevue's dense, highly walkable downtown core offers a perfect spot for those who want to live right in the center of it all. Set north of Main Street and west of Interstate 405, it includes everything from the beautiful waterfront spaces of Meydenbauer Bay Park to extensive amounts of retail and dining options. Several malls and other shopping centers (like the sprawling Bellevue Square) offer casual and high-end stores, all within a few square blocks.
Meanwhile, restaurants offer diverse cuisine, like the upscale seafood and steak of Seastar, south Asian at Nibbana Thai Restaurant, and the more casual drinks and bar food of Tavern Hall. Close by, Bellevue Downtown Park provides an oasis of green with a beautiful reflecting pond, just steps from some of the city's tallest buildings and busiest streets. With quick access to Interstate 405, residents can easily get around the region.
As with most built-up downtown areas, real estate in Downtown Bellevue is almost exclusively condos and other multifamily units in mid- or high-rise developments. Modestly sized one- or two-bedroom units can be found from the high $600,000s through the upper six figures. Most properties sell in the $1-2 million range and may be in one of Bellevue's best condo communities. Areas of downtown closer to the water include rarer single-family properties, which can reach $5-10 million or more.
Downtown Bellevue Amenities
Bellevue Square shopping mall
Bellevue Downtown Park
Meydenbauer Bay Park
Meydenbauer Convention Center
Bellevue Library
Bellevue Arts Museum
Wilburton
There are few better choices for those who want to experience the best that Bellevue has to offer than the centrally located Wilburton neighborhood. It began in the 1890s as a logging camp before being annexed by Bellevue as the city expanded in the late 1960s. These days, residents enjoy quick and easy access to all of the shopping, dining, and services that downtown Bellevue has to offer, located just across Interstate 405. The community is also filled with many parks and green spaces, including the Bellevue Botanical Gardens and Wilburton Hill Park. Homeowners can also take advantage of a wide variety of businesses along Interstate 405, from fun like Dave and Busters to more practical spots like Home Depot and Whole Foods.
Like neighboring Woodridge, Wilburton offers potential homebuyers a choice between single-family detached homes and condo or townhome living. These smaller multifamily units usually start from just under $300,000 to the mid-$400,000s, generally offering one to two bedrooms and a similar number of bathrooms. On the flip side, those looking to buy a single-family home in Wilburton should expect to pay at least $1 million, or potentially double that! These three to five-bedroom houses include a good deal of new construction.
Wilburton Amenities
Close to downtown Bellevue
Affordable condo/multifamily options
Bellevue Botanical Gardens
Overlake Medical Center
Easy access to Interstate 405
Enjoying the Good Life In Bellevue, Washington
Bellevue may look like a small town or bedroom community for Seattle. But as these diverse and desirable neighborhoods show, it's anything but. From luxury waterfront houses to more modest starter homes, Bellevue's best communities have something for every buyer and every taste. With incredible parks and outdoor recreation opportunities, easy access to multiple interstates and highways, and a thriving community, moving to Bellevue is undoubtedly worth consideration for those buying a home in the Seattle metro area.