4 Luxury Interior Design Tips For Condos: Opulence In the City
Posted by Adriano Tori on Monday, September 26, 2022 at 8:18 AM
By Adriano Tori / September 26, 2022
1 Comment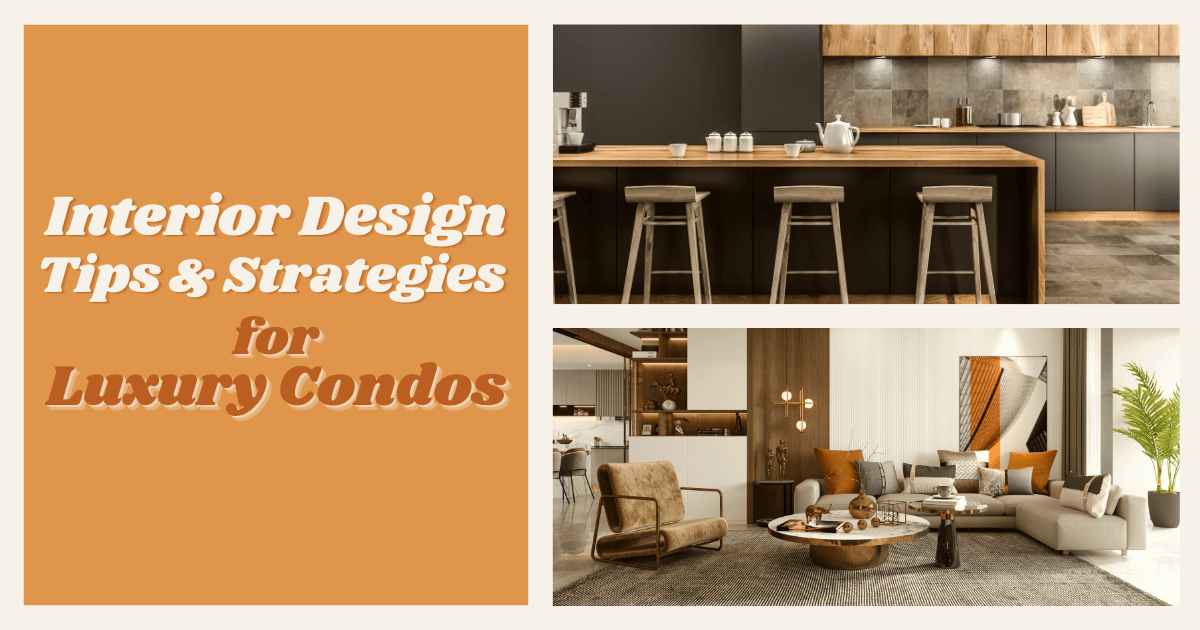 Buyers who want a magnificent property should consider luxury condos when home shopping. In many situations, living in a luxury condo community can mean access to more amenities than a single-family home.
Decorating a condo's interior is best approached differently than a traditional home. From the choice of materials and lighting to furnishings and highlighting views, check out these tips for designing the interiors of a condo that creates a feeling of luxury.
Use High-End Materials Suitable for Luxury Homes
Houses in Bothell, WA, showcase that luxury condos should be designed and decorated with the highest quality materials, ensuring enhanced comfort and beauty. High-end installations and features such as elegant quartz or marble countertops, wood flooring, and top-of-the-line fixtures will likely last for years.
Rather than engineered materials, those that hail from nature are highly desirable, beautiful, and resilient. Furthermore, natural materials are typically more environmentally friendly than alternatives.
Several hardwoods are suitable for floors and can establish a warm and welcoming feel in a luxury condo. When shopping, be mindful to select a color, pattern, and wood type that complements the overall decor.
High-end materials like quartz, marble, and granite create durable and attractive countertops and backsplashes and are used in many decorative pieces. Using high-end materials in renovations and remodels are a great way to make a statement and increase your home's value. Consider making baths, kitchens, wet bars, and living room fireplaces stand out with these impressive mediums.
Fixtures like faucets, shower heads, statement lighting, and doorknobs will become impressive additions when adorned with materials like gold or silver overlays. Such features attract the eye and exude a sense of luxury.
Enhance Rooms with Color & Lighting
The use of soft, calming colors and neutral palettes make a modern luxury condo stylish while enhancing the appearance of indoor spaces. Whatever colors you choose can be highlighted with upscale lighting fixtures.
Lighter paint in rooms can make them feel and look more spacious, which lends itself to a luxury condo. Because color can affect mood, consider using calming hues like blues and greens in bedrooms and the living room.
Rooms won't feel bland with colorful accent pieces, rugs, and trim options that pop to add interest. Owners who want trending interior colors should look at the latest from the Pantone Color Institute.
Fancy lighting features are must-have installations to give a condo's interior a luxury appearance. Go big with a grand chandelier in the entryway or dining room. Designer wall sconces, directional lamps, and ceiling pendants can quickly complement spaces and showcase luxurious features, artwork, and unique decorative pieces.
Highlight the Best Views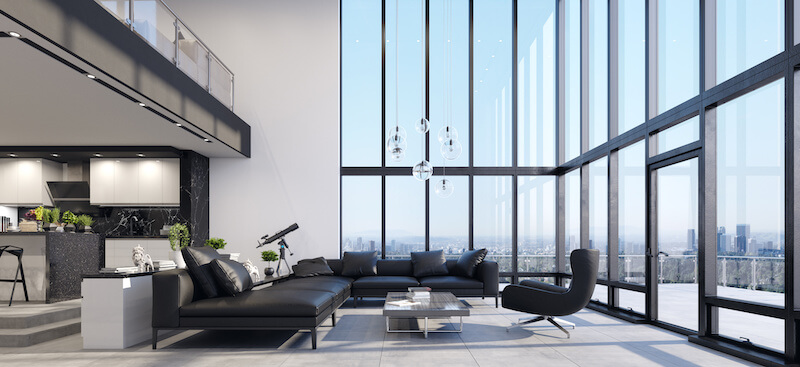 Condo owners with spectacular landscaping outside their homes or even a body of water will want to take advantage of those views. This means keeping windows visible and placing furnishings and decor around them that meld the indoors with the natural world outside.
In the case of a new construction condo, owners can request floor-to-ceiling windows. Bay and custom-cut panoramic windows offer great views and character to a luxury condo. Owners can enjoy these windows with a new installation or remodeling project.
Ideally, the condo will have an open floor plan with fewer walls dividing commonly used rooms. As a bonus, an open floor plan makes windows more visible, and this is key when wanting to maximize views. Should a condo not have this architectural layout, it's possible to remove non-load-bearing walls during the build or through renovations.
Get inspired with these four decor tips to complement the views:
Keep interiors soft with warm and neutral color schemes.
Utilize natural materials that keep in tune with the setting outdoors.
Minimize distractions from the views by avoiding decor with complex patterns near windows.
Place plants near windows that encourage occupants to look in that direction but don't block the view.
For example, homes overlooking a beach might use colors like blues, sand browns, yellows, and whites that invoke images of lounging on the beach even when indoors. Condos with wooded views should consider greens and natural stones to enhance the property's natural theme.
Make a Statement with Oversized Pieces
Statement pieces are those that become the focal point of rooms. While they don't have to be large, experienced designers recommend having one oversized statement piece in common spaces that are functional and impressive.
This might be an oversized marble-top table with carved legs in the dining room. It could be an oversized couch, a large designer rug, or a big piece of fine art in the living room. Make a statement with an impressive headboard or eye-catching tapestry for bedrooms.
Other ideas for statement pieces in a luxury condo include:
Hand-carved or designer end tables
Oversized entertainment centers
Elegant bookends and glass accent pieces
Indoor fountains and statues
Avoid going overboard with too many statement pieces that could detract from each other and make rooms feel cluttered.
Adorn Luxury Condos with Stylish Interiors
One of the best aspects of using high-quality materials and fixtures in a luxury condo is that they add visual appeal and value to the property. Whether investing in a new-construction condo or planning to remodel one, keep these interior design tips in mind to give each space a feeling of luxury.